Each XL18 Flamethrower includes:
Fully assembled XL18 Flamethrower (gun, tank, backpack, etc)
One (1) refillable 20oz CO2 tank (extras are available here)
XL18 Flamethrower quick-start guide
Interested in buying more than two flamethrowers? Contact us about special bulk discounts.
What you'll need:
(Due to shipping restrictions, we do not ship anything pressurized)
CO2 Tank(s) filled
Each XL18 comes standard with one empty 20oz CO2 tank. Extra tanks are available for sale 

here

. These tanks are also commonly available online or at most sporting goods stores

.
8oz Butane Canister (also marked as isobutane)
These canisters are readily available at major department stores such as Wal-Mart, sporting/camping goods stores, and online for just a few dollars

.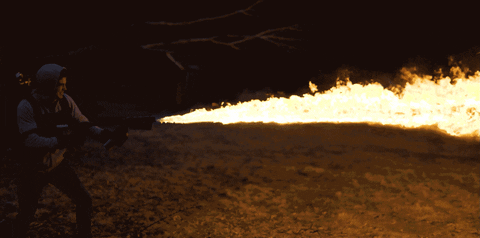 Designed to launch flames over 100ft.
The XL18 is world's most powerful personal flamethrower
Control the Power
The wand system has been completely redesigned to handle a 10x increase in firepower.
Easy push button ignition
High strength heat shroud
Ergonomic grips
High power pilot torch

</model-viewer >